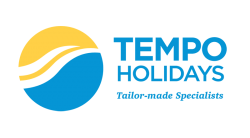 This month Tempo Holidays has teamed up with Travel Daily to give away a five-night trip for two to Turkey, including airport transfers, daily breakfast, sightseeing with an English-speaking guide and more.
Tempo Holidays has recently released its 2020/21 range of brochures. Make sure you take a look as they will help you find the answers to the weekly questions. The agent that answers the most correctly and has the most creative response to the final question will win. Send your entries to tempo@traveldaily.com.au
Monday 2 September 2019
Q1. Tempo Holidays have an array of independent, small group tours and coach tours available in the new UK, Ireland and Eastern Europe Brochure. How many best-selling tours do they have in the UK brochure?
Monday 9 September 2019
Q2. Tempo's Latin America brochure is full of exciting new tours that will delight the senses. What is the name of our NEW tour in Peru which features highlights such as eating lunch while overlooking an archaeological site in Lima?
Monday 16 September 2019
Q3. India is full of destinations that offer rich heritage and fierce wildlife while Sri Lanka can offer safaris, wellness retreats and unique once in a lifetime experiences. How many staff picks does Tempo recommend in the India/Sri Lanka Brochure?